This blog post is about Archangel: Hellfire, a competitive multiplayer VR game that I worked on at Skydance Interactive during 2017-2018. We were given the task of creating a follow up to our single player VR narrative game, Archangel. We took some of the art assets from the original title but programmed and redesigned most of the game systems from the ground up. After a year of hard work, we were about ready to wrap up Archangel: Hellfire.
Archangel: Hellfire is a valuable case study because we were forced to push against the grain of standard VR first person shooter games. Hellfire's premise (as a cockpit-based mech game) allowed us to focus a lot of our development time on game design rather than VR specific feature development. By dialing back the amount of simulation and touch control based interactions, and iterating on combat mechanics, movement systems, and multiplayer gameplay experience, we discovered several valuable insights into VR game development in general.
Design Principles
Every time new hardware technology comes out, developers are pressured to prove its worth by designing products that showcase what it can do. The problem is, there is no truth in the idea that using all of the new features of hardware makes for good software. Sometimes it does, but in the case of a VR game, we are dealing with such a big jump from a regular video game that everyone stands to benefit from taking a step back and contemplating what is truly advantageous about gaming in a VR headset. With so many new options for things that you can do in VR, it is easy to let your imagination run wild and think of a million different things you can simulate (steering a wheel, shooting a gun, flipping a burger, petting a cat, bowling a ball etc…) However, perhaps it is better to momentarily forget all of that, and think about what it takes to make a great game that uses only a few features afforded by VR and mostly aims to be something people actually want to play more than once.
Popular culture gives a wildly inaccurate representation about the capabilities of VR, as well as the function of VR in a contemporary setting. Thus, people tend to gravitate toward the marvelous aspects of VR and have unrealistic expectations about what it should be. You will hear over and over "The technology will get there." But if you think about it, the current technology is pretty great if you just use it correctly. Films like Avatar and Ready Player One plant the idea that the ultimate gameplay experience is one in which you inhabit a virtual body which feels and functions exactly as your own – and then you engage in warfare. In this way pure VR is the truest simulation of the most treacherous of human experiences. But you must ask yourself – is this really better than what other experiences have to offer? We already have sports: football, lacrosse, paintball, hockey, and these activities already give all of the violent adrenaline you could ever ask for. Reading a great book can be more immersive than any technological experience on earth, and it requires zero technology. Given this, what can we achieve with the VR technology we have today without assuming that a future version of VR would be automatically better?
Did we already run out of ways to create great games on PC, console, and mobile? Market trends would suggest not. 2017 revealed a complete reinvention of the first person shooter, PUBG and the battle royale style. By simply changing around a few systems, Brendan Greene and his team at PUBG Corp were able to take the world's gaming community by storm. People are completely content playing games on their desktop in their living rooms. There is no real market demand for something more immersive than screen based gameplay. When contributing ideas to Archangel: Hellfire, I always kept this in mind. We were creating a game that not only competes against other VR titles, but also regular first person shooters like PUBG. Why would someone want to try our game when they could just keep playing Fortnite? Being in VR is not enough. 
At first experience it seems like walking around in a room (standard HTC Vive room scale VR) with a headset on your face and getting to interact with a 3D virtual space is the coolest thing ever – you feel like you are in another world! You can crouch to dodge bullets flying at you. You can pick up a coffee cup and drink it. You can throw a plate at your grandpa. You have never experienced that before, and it feels so visceral! Who would have thought this could be possible? Except unless you are at a location based experience like "The Void" you realize you are confined to a 40 square foot virtual cell which limits your ability to travel through virtual space unless by awkward teleportation or weird floating. If you look at the history of video games, the vast majority of them involve traversing space in an engaging way. Room scale VR immediately revokes that possibility. The novelty quickly wears off. Games tend to be based on moving through levels using a joystick or directional pad. Movement and world exploration is a core part of engaging gameplay, and the first thing room scale VR hardware did was make that a low priority by necessitating that your physical space (which is more often than not limited to a tiny room) match the virtual space in order for movement to be intuitive. The solution to this situation is free movement VR experiences with deep game mechanics that focus less on VR quirks and more on gameplay. Thanks to the Oculus Rift touch controllers, we were able to able to execute this solution in Archangel: Hellfire.
Movement and Motion Sickness
In the first several months of development, the biggest challenge that we faced was the implementation of a movement scheme that was fun and did not make the player sick. The original Archangel game was a rail shooter so there was no user-controlled movement. When we were given the opportunity to make Archangel: Hellfire, we had to design and program a movement scheme from scratch. Initially, we were going to try to make a control scheme that worked well for PSVR, Vive, and Oculus Rift. Because the PSVR touch controllers do not have joysticks or directional pads, we were trying to design a way to handle motion via waypoints and other non traditional modes of input. After 3 months of experimental development, many arguments, and iterations on different waypoint systems to accommodate the PSVR touch controllers, we gave up, and decided not to include PSVR in our designs. Our executives noted that the waypoint controls were awkward, and not reactive enough for people accustomed to FPS style movement. Because of its joysticks, the Oculus Rift handled great. The Vive would handle about the same as the Rift but slightly worse due to the controller's touch pads and lack of accessible buttons.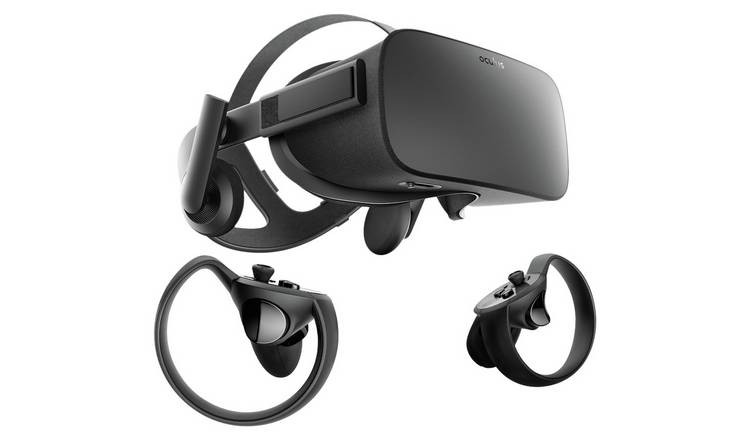 Our entire development cycle was focused on the Oculus Rift. The game would be playable on Vive. But by focusing on the Oculus Rift, whose controllers are most similar to most console controllers, we were able to line up our sights on making an intuitive control scheme. It was about 6 months into development when we settled on what our game's core design would be, and that is when development became quite fun.
At the time, our game is unique because you move fast, jump, fly, and spin all over the place and you never feel nauseous. We spent a lot of time trying to make the best movement scheme possible, and we were constantly fighting against the specter of nausea invalidating our designs. Nonetheless, by disregarding popular opinions, taking risks, and making thousands of small adjustments, we achieved something nausea safe and highly functional. 
Gameplay and Combat Design
Edmund Burke, an 18th Century Scottish Philosopher and Politician, wrote about beauty and the sublime. One of his claims was that a metaphorical poem about hell will emotionally affect a human more than a perfectly detailed painting of hell. It is a general premise that giving a clear picture of something is actually less pleasing to the human passions than an obscure (verbal) depiction. Obscurity ignites emotions more powerfully than does clarity.
When developing VR features, the granular control afforded by touch controllers prompted every single first person shooter developer to add in hyper realistic, gesture and motion based gun mechanics. You could pump your shotgun by moving your hands to and fro, manually place a new clip into your gun, rotate the chamber on your revolver in order to empty all of the casings, aim down the scope of your gun while you awkwardly bump your headset into the controller. In short, the developers of many of these games tried to make it feel like as close to handling a real gun as it would be in real life. They were simulating what it was like to use a gun. This was certainly endearing to those who knew how guns worked, but it eluded a very particular point – simulation is usually not the thing that sells. In contrast, simplicity is entertaining and accessible to everyone. I would argue that Burke's claim of the clarity vs obscurity is analogous to simulation vs. representation in game development. Coming up with a good representation of something in a game often ends up being more entertaining than simulating its functionality with exact precision to reality. In Hellfire, we skipped a lot of potential VR weapon simulation so that we could throw players straight into the action, so that we could toss a stick of dynamite on their laps.
VR needs accessibility and replay-ability. When I played most of the gun simulator VR games, I could hardly figure out how to kill an enemy, let alone traverse through the menu screens. This made me realize what I wanted for Archangel: Hellfire: get into the action as fast as possible, make the game so intuitive that a first time player will effortlessly rack up kills and feel like a boss. No simulation or gestural interference necessary.
There is a quote by Quentin Tarantino that goes something like this "When I make movies, I light a stick of dynamite and throw it in the viewer's lap." Ingmar Bergman said something similar, "My films must always retain the purpose of entertainment, even at the peak of their ingenuity." I like these quotes because at the end of the day, video games are also an industrial art form and must be profitable and entertaining in order to persist as a medium.
When we take a step back and look at the top selling first person shooter franchises in history (Halo, Call of Duty, Counter-Strike) they did not simulate anything. Tap a button to reload, and use a crosshair to see where your bullet is going to go. You do not get a crosshair in real life, yet every single great first person shooter uses one because it is a great representation of how to aim a gun. Adding VR gun simulation is sacrificing a lot of space in our innovation economy because it is different from prior successes. If you are going to make your game about gun simulation, there isn't going to be a lot of room or time to add in anything else unique or interesting. How much bang for your buck are you getting out of a unique feature? We decided that gun simulation was the least important fun factor in our game, so we did not even attempt it. Like Archangel, Archangel: Hellfire uses on screen crosshairs that project from the touch controllers out into the world. Even though you never get to hold a gun, Archangel: Hellfire is more similar to gun based console shooters like Call of Duty and Halo than any of the other VR games because it represents shooting instead of simulating it. We were fortunate that having a mech game essentially forced us down this path due to the fact that you are in a cockpit instead of on foot. Admittedly, shooting a gun in VR is enjoyable, but not having to worry about gun handling in Archangel: Hellfire allowed us to elaborate on other aspects of game design.
This concludes my review of the design behind Archangel: Hellfire. I felt compelled to share this year old writing, which would have otherwise remained unpublished on my google drive, because all of this thought leads directly into the game design of Extreme Tactical Executioners (xTx), the game I designed and programmed with Baby Rage Games. Had I not worked on Archangel directly before xTx, I would not have approached the game with the same design sentiment on "minimal VR features and maximal game features".
Book recommendation: "No Ordinary Time", by Doris Kearns Goodwin for an informative look into the presidency of Franklin Delano Roosevelt.